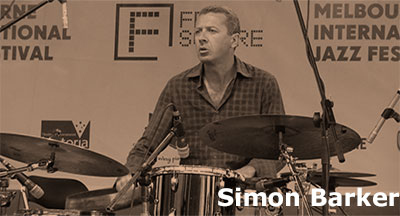 Simon Barker studied in Australia with John Collins, and in New York with John Riley, Keith Copeland, Marvin "Smitty" Smith, Kim Plainfield and Mike Clarke. Since returning home in 1990 he has performed throughout Australia, Europe, Asia and the US including a 17-city Tran-Siberian concert tour of Russia with the Mark Isaacs trio.In 2005 Simon created Kimnara Records, an independent record label presenting new music by Australian improvisers. In 2011, Simon completed a PhD at the University of Sydney.
He is involved in several collaborative projects including Chiri (Scott Tinkler, Bae Il Dong), Band of Five Names, Showa 44 (duo with Carl Dewhurst), and Lost Thoughts (duo with Scott Tinkler). In 2005, Simon was commissioned by the Australian Embassy Seoul to create a cultural exchange event for the 2005 Australia Month Festival in Korea. This led to the formation of Daorum, a group featuring pansori singer Bae Il Dong, Korean traditional percussionist Kim Dong Won, Phil Slater, Matt McMahon and Carl Dewhurst. The group has since performed at the Lincoln Center for performing arts, New York, as well as numerous international arts festivals.
Simon performs regularly with many of Australia's most established ensembles including the Phil Slater Qt, the Australian Art Orchestra, Vince Jones, Katie Noonan, Paul Grabowsky Quintet, Matt McMahon trio, Sandy Evans' GEST8, as well as various groups led by Scott Tinkler, including the Scott Tinkler Trio and Drub.
In the past Simon has performed and recorded with a great variety of local artists and ensembles including John Sangster, Mark Simmonds' Freeboppers, Bernie McGann, Don Burrows, Dale Barlow, Tim Stevens' Trio, Mark Isaacs Trio, Judy Bailey, Ian Chaplin, James Muller, Clarion Fracture Zone, Roger Dean, Julian Wilson, James Greening, and Baecastuff. He has recorded over sixty CDs with local and international jazz artists including ARIA winner "Fire" by Mark Simmonds' Freeboppers. Simon has also played with many international touring artists including Marylyn Crisspell, Tim Berne, Joe Lovano, Ed Schuller, Makoto Kuria, Claire Martin, Sheila Jordan, Gary Smulyan, John Hicks and Carlos Ward.
Since 1997, Simon has been actively promoting Australian jazz ensembles in North Asia through the development of annual performance opportunities in Korea and China, representing the creation of a regional touring circuit for Australian musicians.
Equally active in the jazz education field, Simon gives workshops and private tuition at universities throughout East Asia including the Beijing Central Music Academy, Mahidol University (Thailand), All That Jazz series (Hong Kong), Hanoi Jazz co-op (Vietnam), Seoul Jazz Academy (Korea) and the Christchurch Polytech (NZ). In 1998 and 2000, he was a guest performer for the Canberra School of Music's Jazz Initiative. In 2005 he was guest lecturer and moderator at The University of Canterbury, Christchurch.
His interest in developing new music with East Asian musicians has also led to collaborations with the Japan Australia Jazz Orchestra (2006), Hoe Jin Oh Trio (Korea, 2003, 2004), drummer/composer Won Il (Korea, April 2002), Min young Seok (Korea, 2001/02), Eugene Pau (Hong Kong, 1998), and improviser Kim Dae Hwan (Korea 1999).
Simon has been a guest speaker for the Asialink Leadership Program each year since 2003, and in 2002 was awarded an Asialink residency grant to engage with musicians and arts agencies in South Korea.
Selected Recordings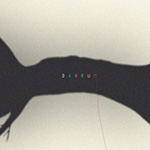 'Daorum' – Daorom
'Paths and Streams' – Matt McMahon